Corporate Law & Special Projects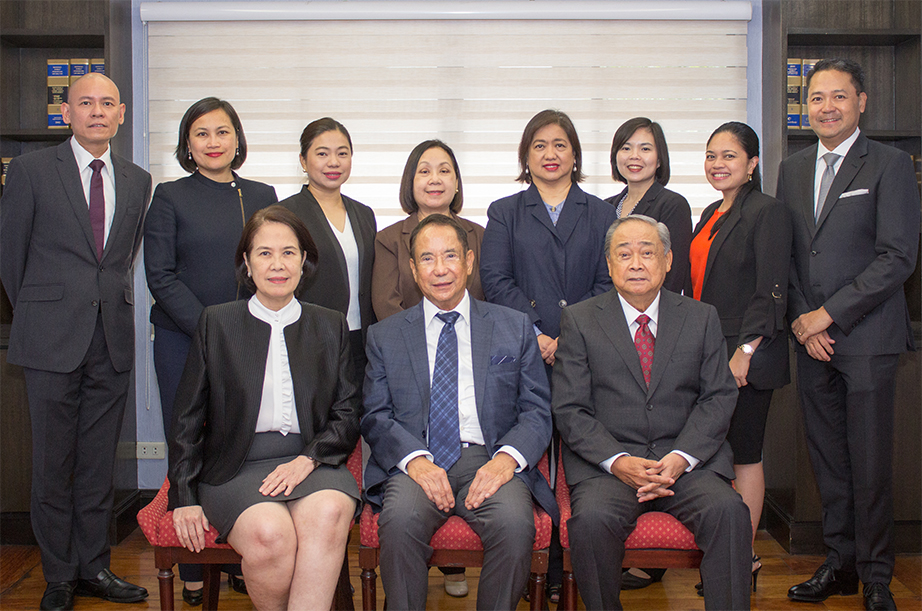 The synergy of legal professionals with diverse expertise for nearly four decades of existence has equipped our firm with organized capability to handle corporate and special projects of varying magnitude and nature. We have created corporate and special project teams along these lines of expertise, building core competencies and a strong reputation in foreign investments, mergers and acquisitions, securities, banking and project finance, debt restructuring, real estate, infrastructure, construction, power, energy and mining corporate restructuring, public bidding, public-private partnership, advertising, information technology, data privacy management and government procured internet commerce.
We provide straightforward, proactive and practical advice in commercial transactions, guiding our clients to successful closing and implementation of their projects and transactions. We provide legal assistance, ranging from basic corporate housekeeping and retainer work to complex business undertakings.
Our clients represent a balanced mix of multinationals and local enterprises at the forefront of today's global business, reflecting a high level of diversity and specialization.
Sub Practice Areas
Business Formation And Structuring
:
Starting with the basic formation and licensing of a legal entity in the Philippines in order to do business or other activities, we assist clients in setting up companies which may in general be a corporation or partnership, as well as non-profit organizations such as foundations or associations. We draft charter documents such as the Articles of Incorporation and By-laws, and file the necessary application for registration or licensing with the Securities and Exchange Commission, Department of Trade and Industry, Bureau of Internal Revenue, local government units, Social Security System, Bangko Sentral ng Pilipinas and other relevant government agencies.
We also advise clients on other forms of business arrangements, such as joint ventures, collaboration, licensing, franchising, distributorship and agency agreements.
The Philippines is one of the top emerging markets and has consistently drawn substantial foreign investments. We assist foreign clients in setting up a subsidiary or branch office, as well as other forms of marketing or administrative offices such as a representative office, regional headquarters or regional operating headquarters. We further advise foreign clients on how to protect their investments, such as (i) compliance with any foreign ownership ceilings for a particular industry, (ii) management protection devices such as a shareholders agreement or joint venture agreement, and (iii) registration of foreign investments with the Bangko Sentral ng Pilipinas to ensure that foreign currency may be purchased from the Philippine banking system for purposes of converting dividends or invested capital to international trading currencies for remittance to the foreign shareholders.
In forming businesses, we advise foreign clients on the legalities of equity ownership and management structures that are best suited to their needs and requirements, including shareholders' voting mechanisms such as super-majority voting or quorum requirements, if applicable. We also advise foreign clients on tax considerations on their investments as well as local laws and regulations relating to their expatriate and local employees.
We also advise clients on other forms of business arrangements, such as joint ventures, collaboration, licensing, franchising, distributorship and agency agreements.
Corporate Secretarial And Retainer Work

:
Once the entity is established, we provide continuing legal guidance and services to our clients, both local and foreign, such as acting as corporate secretary or resident agent. We also provide advice on the legal aspects and consequences of corporate decisions to be made and implemented by our clients, to ensure not just compliance with laws and regulations, but also the optimization of their resources.
We assist clients in obtaining and updating their business and tax permits and licenses. As corporate secretary or resident agent, we assist clients in filing of regular financial and management reports required by government agencies, and advise them on day-to-day requirements for legal and regulatory matters that affect, or may potentially affect, their business and other interests.
Contract Drafting And Advice

:
We draft and advise clients on the simplest to the most complex contracts and other agreements, encompassing all types of businesses and projects, ranging from a simple sale to complicated equity, securities, mergers and acquisitions and banking and project finance transactions. Our years of experience, plus our collaboration with international law firms, have provided us insights on recommending the most appropriate type of contract for a particular transaction, taking into account client's requirements and circumstances as well as other considerations such as tax, ownership and management, and other issues.
Mergers And Acquisitions And Other Business Reorganizations

:
With a growing Philippine economy, businesses are getting bigger. We are one of the most active law firms handling mergers and acquisitions, both local and the Philippine phase of worldwide mergers and acquisitions. These mergers and acquisitions include pharmaceutical, manufacturing, insurance and telecommunications companies.
Among our notable projects, is our representation of CRH plc, an international company engaged in the business of manufacturing and supplying construction materials, and its joint venture with Aboitiz Equity Ventures, Inc., a big local conglomerate, in the acquisition by said joint venture of a portfolio of Philippine cement assets disposed by the Lafarge Group in connection with its worldwide merger with the Holcim Group. This was one of the biggest Philippine equities deal to date, garnering for the firm the M&A Deal of the Year Award in 2016 at the Thomson Reuter's Asian Legal Business' first Philippine Law Awards.
We also act as counsel for corporate divestments, dissolutions, liquidations, spin-offs and other corporate reorganizations.
Banking and Project Finance

:
We take pride in our project finance practice. Being one of the earliest pioneers in this field, our firm has built strong foundations and international reputation in project finance, such that we continue to be in the forefront of many such transactions, either as counsel for the lender or borrower. We acted as counsel for the World Bank's investment arm, the International Finance Corporation, in the first build-operate-transfer transaction in the Philippine power sector. Our practice in this field has since experienced tremendous growth. In 1997, we were named "Regional Law Firm of the Year" for our project finance work by Asia Law Magazine, a Euromoney Publication. We have likewise gained recognition as a leading law firm in project finance in the Philippines, particularly in the following sectors, many of which involve pioneering work: power and energy, telecommunications, mass transportation, water distribution, and oil refining.
Notable among the projects in which the firm has acted as lenders' Philippine counsel are the 1200 MW KEPCO Ilijan Gas Project in Batangas, the US$480 Million Pilipinas Shell Refinery Asset Renewal in Tabangao Batangas, the 750 MW Pagbilao Hopewell Power Project in Quezon Province, the 1000 MW Sual Power Project in Pangasinan Province, the US$500 Million EDSA Light Rail Transit Project in Metro Manila, the Cavite-Laguna Expressway Project in Southern Luzon, the Cebu-Cordova Link Expressway in the Visayas, and the First Gas 1000 MW Sta. Rita and 500 MW San Lorenzo Projects in Batangas.
Debt And Equity Restructuring

:
We also advise clients on the protection of their debt and equity investments in financially distressed companies. We assist in loan and equity restructurings as counsel for the borrower or the creditors and advise clients on all rehabilitation, bankruptcy and enforcement issues, including the legalities of foreclosure and other modes of security enforcement, insolvency, suspension of payments, receivership, liquidations and similar proceedings.
Securities, Competition And Anti-Trust, Bidding, Data Privacy And Other Services

:
We also handle projects such as privatization transactions, public and private equities and debt placements and domestic initial public offerings and other securities offerings and registrations. Our clients include publicly listed companies. We also have emerging practices on anti-trust and competition laws, data privacy management and internet commerce.
Construction, Infrastructure and Real Estate

:
We are poised to take a lead role in the booming Philippine real estate and construction industries and the Philippine Government's thrust towards big-ticket infrastructure projects such as in transportation and telecommunications. We count among our long-time clients big local and foreign construction companies, equipment suppliers and real estate companies. We have advised on notable infrastructure projects such as the completion and renovation of the Ninoy Aquino International Passenger Terminal 3. We advise contractors, both local and foreign, on contractor's licensing requirements of the Philippine Contractors Accreditation Board, and have assisted in obtaining contractor's licenses. We also advise on condominium projects and other real estate developments, including land acquisitions or sale.