Litigation & Alternative Disputes Resolution
The firm has a strong litigation group, handling civil, commercial, criminal, tax and specialized litigations before judicial and quasi-judicial bodies. Assistance to clients involves advice and representation at the pre-litigation, trial and appellate stages, including applications for attachments, injunctions and other provisional remedies. In particular, the firm represents parties to disputes in such areas as insolvency, contract breach, creditor claims, election controversies, enforcement of civil and political rights, family and matrimonial relations, maritime claims, mass tort, insurance claims, securities regulation, products liability, probate of wills, settlement of estate and trusts, stockholders' derivative suits, class suits, and tax litigation.
The firm adheres to a candid and professional evaluation of cases and practices within the bounds of law and ethics to achieve the most effective representation of its clients, bearing in mind their mandate and objectives. Cases are invariably assigned to a team of at least two lawyers led by a partner, who conducts brainstorming sessions among the team members and the client before proceeding to a plan of action. These sessions keep lawyers abreast with the client's business goals and they also provide a forum to anticipate client needs. Regular meetings are held among the litigation lawyers in a collective effort to closely monitor the status and direct the pace and progress of on-going litigations and new referrals.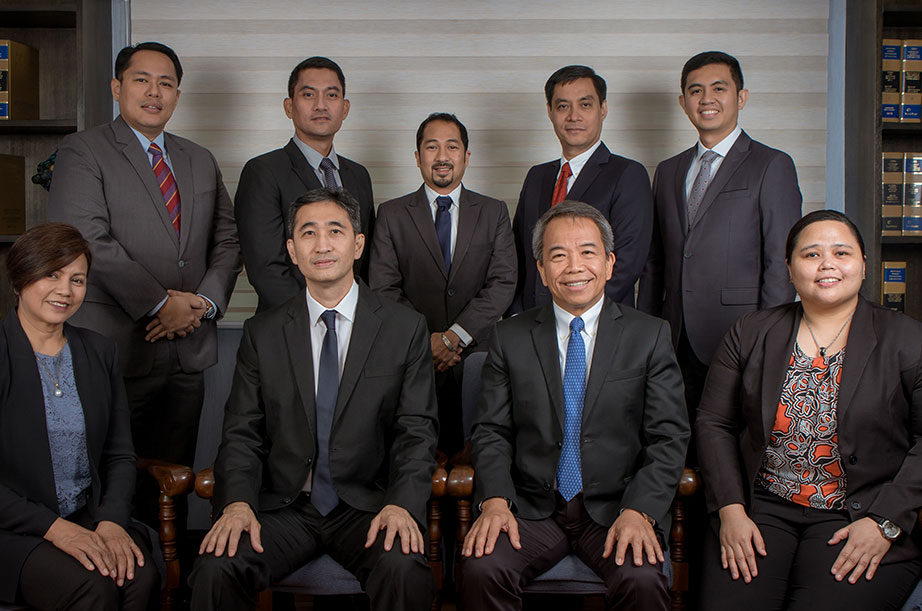 Alternative Dispute Resolution
The firm provides advice and representation to clients in commercial and specialized arbitration, mediation, conciliation and other alternative modes of dispute resolution (ADR).
In response to a party's desire to exhaust available avenues to amicably resolve disputes, we assist in "competitive" settlement negotiations, or act as conciliators or mediators, giving emphasis to achieving resolution for the joint gain of disputants, thereby enabling them to preserve or restore business, or even personal relationships. In the event that amicable means are unavailing and the client decides to go to arbitration, the firm has lawyers who are skilled in the entire arbitration process, from strategy formulation, marshalling of facts and evidence, preparation of pleadings, presentation of evidence, appeals in exceptional cases, to the enforcement of arbitral awards.